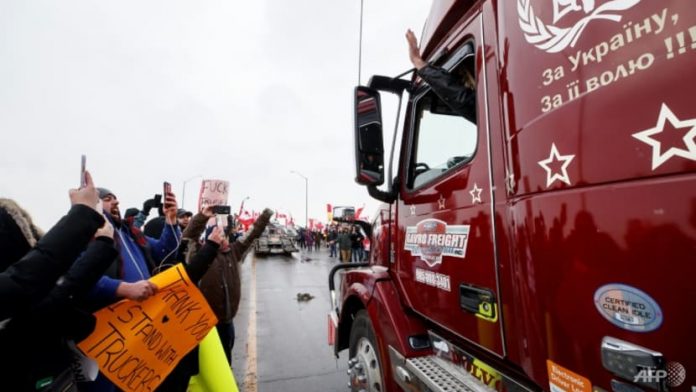 The "Freedom Convoy 2022" saga seems to never cease. Ottawa lawyer Paul Champ is launching a class action lawsuit against the convoy organizers, who occupied city streets in January and February 2022. Champ is seeking $290 million in damages for his plaintiffs, Ottawa residents and businesses affected by the downtown occupation.
On Monday, an Ontario court judge rejected an attempt by Freedom Convoy organizers to quash the lawsuit against them and will allow the class-action claim to proceed. "There is nothing fundamentally wrong with the plaintiffs seeking remedies against the defendants involved." wrote Justice Calum MacLeod of the Ontario Superior Court.
The area affected disrupted the lives of some 15,000 residents and includes the Rideau Centre shopping mall, which shut down during the protest, putting employees out of work.
The lawsuit alleges constant horn honking and diesel fumes harmed residents, while businesses and their workers lost income during the three-week protest.
The lawsuit "is based on some sound principles in law that you can't unduly interfere with an individual's enjoyment of the peace and quiet of their home," said class action lawyer Champ.
A court ruling allows the claim to add to the list of defendants a "donor class" of those who gave money through GiveSendGo, GoFundMe or other means to support the convoy. 
Defendants include New Brunswick businessman Brad Howland, who donated $75,000 to the convoy protesters, and Harold Jonker, whose trucking company had at least ten rigs parked in Ottawa, according to court documents.
Two "Freedom Convoy" organizers, Benjamin Dichter and Chris Garrah say they don't have enough money to defend a potential class-action lawsuit. They want the Superior Court of Justice of Ontario to release $200,000 of the more than $5 million in funds given by convoy supporters presently in escrow, a request the court has denied.
"The vast majority of the truckers who clogged the streets of Ottawa for three weeks and were honking their horns day and night have escaped any consequences up until now," Champ said.
"The way we're leading this case, anyone who was a trucker who parked in downtown Ottawa, as well as anyone who donated a significant amount of money to the protest after Feb. 4, can be liable jointly and separately for the entire amount of damages."
The class action has not yet been certified by a court, but if it is, anyone who gave money to the convoy could be potentially liable, while plaintiffs in the occupation zone could benefit.
More than $5 million in convoy donations has been frozen by court order and placed in escrow pending the outcome of the litigation.
Champ said he feels bad for some who participated in the protests suggesting they got poor advice. "They just held to this idea that if they were protesting, anything they did was acceptable."