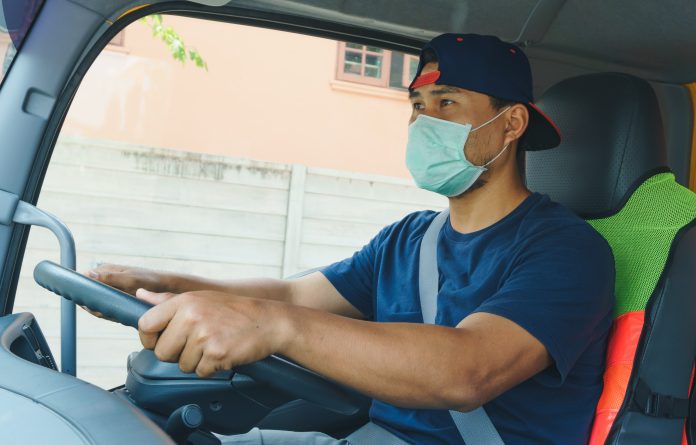 As a truck driver, you spend many hours alone in the cab of your truck. However, there are times when you will be at increased risk of exposure to COVID-19. For long-haul truck drivers, potential sources of exposure include having close contact with truck stop attendants, store workers, dock workers, other truck drivers, or others with COVID-19, and touching your nose, mouth, or eyes after contacting surfaces touched or handled by a person with COVID-19.
Notify your supervisor and stay home if having symptoms.
Make a plan with your employer and your family as to what to do if you become sick while you're on the road. Include where to stop, where and how to seek medical advice and treatment, and plans for freight delivery.
Limit close contact with others by maintaining a distance of at least 6 feet when possible.
Limit time spent outside of the truck cab during fueling, loading and unloading, and at rest and truck stops.
Use paperless, electronic invoicing for fueling, deliveries, and other tasks, when available.
Contact facilities in advance to make an appointment for unloading of cargo. Be aware that some facilities may not grant access to restrooms, and plan as best you can.
Use radio/phone to talk with dock managers or other drivers, if possible.
Pack food, water, and supplies to limit the number of stops.
Avoid shaking hands.
Keep your truck well-ventilated.
Wear cloth face coverings in public settings where other social distancing measures are difficult to maintain, especially in areas of significant community-based transmission. Cloth face coverings may prevent people who don't know they have the virus from transmitting it to others. These face coverings are not surgical masks or respirators and are not appropriate substitutes for them in workplaces where masks or respirators are recommended or required.
Clean and disinfect frequently touched surfaces on a routine basis such as:
In the truck cab (driver door handle, steering wheel, seat belt and buckle, arm and head rest, seat cover, turn signal, wiper controls, dashboard, air ducts, radio, and temperature controls).
In the sleeper berth (light switches, mattress tray, temperature controls, and other flat surfaces).
If a third party must have access to the interior of your truck (for example., mechanics, other drivers, inspectors), request that the third party clean and disinfect the truck before turning it back over to you.
Practice proper hand hygiene. This is an important infection control measure. Wash your hands regularly with soap and water for at least 20 seconds, or use an alcohol-based hand sanitizer containing at least 60% alcohol.