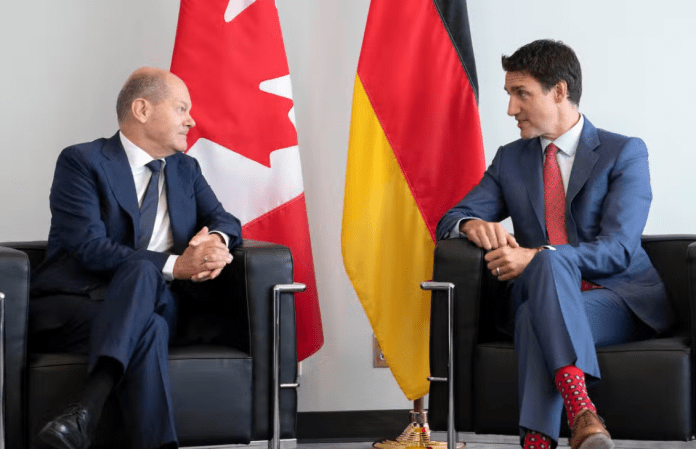 German Chancellor Olaf Sholz was blunt on his Canadian trip this week,  "Germany is moving away from Russian energy imports at "warp speed". Canada is the partner of choice for Germany."
Sholz made an urgent trip to Canada to find new energy sources for his country.
Germany became overly dependent on Russian oil and gas in deals made decades ago. But Russia invaded Ukraine and ostracised much of Europe.
Russia then decided to cut its gas exports to Europe to a trickle in defiance of support for Ukraine by most of the free world.
Exported Russian fuel benefits its economy and supports its war machine. Now, Europe and especially Germany are suddenly looking for other fuel sources.
German economy minister, Robert Habeck, says the Kremlin is using gas "as a weapon". He admits his country made a "grave political mistake" in becoming too dependent on Russian supplies.
The German government has declared a gas crisis, asking industrial users to slash usage, while encouraging councils to turn off traffic lights at night, cut air conditioning and stop lighting up historic buildings. 
German families face a cold winter ahead.
The German Commerzbank said last week that Russian cuts of natural gas supplies could trigger "a severe recession" and possibly even an economic crisis. Gas rationing might be inevitable.
Germany has the fourth-largest economy, and it needs ample energy supplies to run.
That is why Chancellor Olaf Scholz visited Canada this week. Scholz met Justin Trudeau to sign a deal on hydrogen gas development. "Canada plays a central role in developing green hydrogen. That is why we are glad to be able to expand our co-operation." Scholz said. 
Earlier, Sholz mentioned, "We would really like Canada to export more (liquefied natural gas, LNG) to Europe. We are creating the atmosphere for direct talks between the business sectors of Canada and Germany to see if there is something that could be done now in this crisis. This is part of the follow-up between the business people of the two countries."
Natural gas would have to be shipped by pipeline from the gas fields of Western Canada to a still-unbuilt liquefaction terminal on the Atlantic coast to supply Europe. An undertaking like that would be costly, Trudeau said, and could prove unprofitable over the long term given Europe's commitment to a rapid transition to a cleaner and greener economy.
Trudeau says, "One of the challenges around LNG is the large investment required to build infrastructure. There has never been a strong business case because of the distance from the gas fields and the need to transport that gas long distances before liquefaction."
Has the Ukraine war changed this dynamic? 
Perhaps. What is certain is Canada and Germany are partnering on several important new projects. Canada is suddenly in a position to be a player in the economic future of Germany and Europe with the opportunity to further grow its green technology and energy sectors. Russia's Ukrainian invasion has forged closer ties between Germany and Canada.