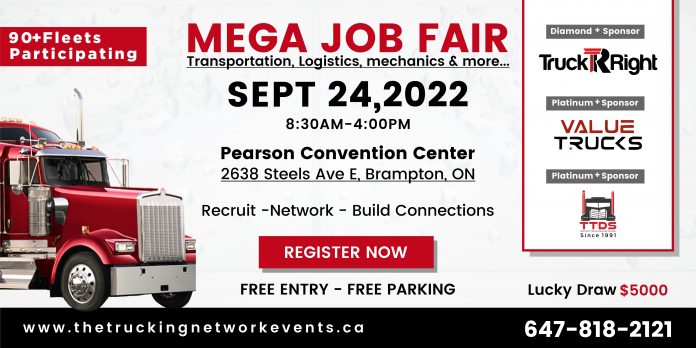 MISSISSAUGA, ON – September 8, 2022 – You can win $5,000 and a career of a lifetime at The Trucking  Network (TTN)'s Mega Job Fair, taking place on Saturday, September 24 from 8:30 a.m. to 4 p.m. at the  Pearson Convention Center in Brampton, ON. 
The Mega Job Fair is recognized as THE platform of opportunity for new and seasoned professionals in the  trucking industry. This full-day event gives entry-level and professional drivers, fleet operators, technicians, maintenance crews, safety & compliance officers and other industry-driven professionals the opportunity to meet, network and nurture their careers together.
Naveen Nav, Editor/Director of Sales and Marketing, explains that The Trucking Network is about bringing the industry together in a real way where professionals can meet, share and support one another in their careers.  
"The Mega Job Fair is an opportunity to connect industry professionals with drivers who, together, can explore  diverse options that are available for them," says Nav. "All you need is your resume and a cover letter about  yourself to begin with; it's a platform to meet with real jobs, real people and build a strong network." 
The event is free to attend, and attendees have the additional opportunity to win $5,000! 
To learn more and to register for the Mega Job Fair, visit www.thetruckingnetworkevents.ca/mega-job-fair event-sept-24-2022. 
Thank you to our Diamond + Sponsor, TruckRight: the only enterprise-grade software as a service (SaaS)  platform created to help trucking fleets manage everything about their people, from recruitment right through to  retirement. Built by truckers for truckers, it combines recruiting, onboarding, HR, online training, and regulatory compliance – all in one system. As former truckers themselves, TruckRight is proud to support an event like  
The Trucking Network Mega Job Fair that connects fleets with future drivers. Another big thank you to our  Platinum + Sponsors Value Truck Sale and Toronto Truck Driving School for your support in making this  event a success! 
Established in 2013, TruckRight helps fleets fill seats, solidify retention, and minimize risk. It's easy to use,  mobile friendly, and saves you time by automating countless tasks. It provides clear, concise, insightful  reporting. Plus, it centralizes your people data, breaking down silos between departments and locations, and letting you go paperless. To learn more about The Trucking Network's Diamond + Sponsor, TruckRight, visit 
www.truckright.com 
For more information, please contact: 
Naveev Nav, Editor/Director of Sales & Marketing 
The Trucking Network 
nav@thetruckingnetwork.ca  
647-818-2121