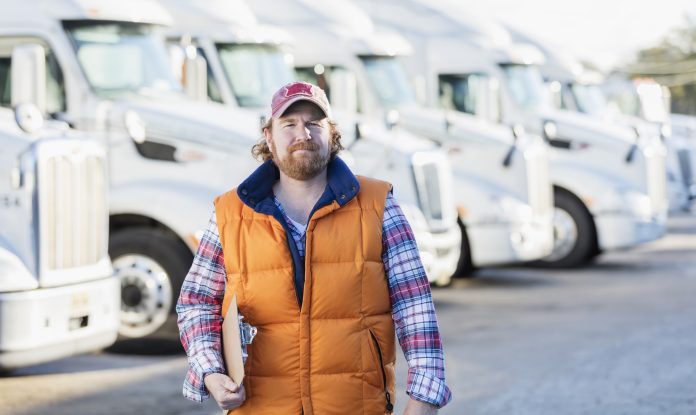 Driver fatigue has deadly consequences. Driver fatigue is a contributing factor in 20% of Canada's fatal car crashes, says the Canadian Council of Motor Transport Administrators. We have no idea of the number of near misses and non-fatal accidents caused by driver fatigue.  In a 2008 poll, 60% of surveyed drivers admitted to driving fatigued. The risk is always there, it's like playing Russian Roulette with fully loaded trucks traveling 100+ KM/H. There are no winners there.
The province of Ontario is making a move to reduce driver fatigue for long-haul truckers. It is acting on a recent study that recommends more rest areas along Ontario highways.
COVID caught everyone off-guard last year including our supply infrastructure. The Trucking Industry became an essential part of our front-line defense against the pandemic. The response that was required from the Trucking Industry was immediate and complete. A year later, Trucking continues to be front and center in the response to COVID.
Moving forward the industry will no doubt be a key cog in the wheel of our economic rebuild. But the pandemic has highlighted the need for infrastructure improvements. While trucks spend many hours on the move, it's finding an appropriate place to stop or rest that there are problems.
A recent study by SPR Associates Inc., highlights a prevalent safety issue, a shortfall of parking and rest areas on Provincial Highways. Mitigating driver fatigue means increasing the number of rest areas for drivers.
The study examined the need for long-haul truck parking and rest areas in Southern Ontario. The project included an online survey of 2300 truck drivers who use those roads, along with consultations with trucking companies, industry associations, and engineering studies. The research addressed the need for additional parking, driver fatigue, and collisions (for Canadian Trucking Associations and the Ontario Ministry of Transportation, 2019).
The study's author Ted Harvey found that Ontario should tackle "large, systemic and persistent parking shortages," and called for 350 new parking spaces over three years. He did give the province credit for addressing the issue but said more must be done beyond existing commitments.
Truck drivers in the survey told of experiences with lack of truck parking and stories of being chased out of industrial areas when forced to park there.
Ontario lost close to 1,000 truck parking spaces in recent years with the closure of private truck stops and rest areas said, Harvey. "It's a big issue everywhere and generally a big problem, across all of North America."
Provincially formed working groups suggest options could include off-season parking at locations such as the CNE grounds, temporarily repurposing lands designated for future projects like a Pickering airport, and reaching out to municipalities to identify other areas that can be used said, Harvey. "In the GTA area, municipal planning departments expressed interest in doing more."
Practicality from the Pandemic suggests it makes sense for rest areas to be allowed at major shopping areas/malls? After all, truckers are the ones transporting the goods and products that the stores need to sell and we need to consume. Up and down the supply chain safety should be the prime concern. That includes ample rest and washroom options for truckers.
The Ontario government announced on January 07 that it is improving 14 existing truck rest areas, building 10 new rest areas, and adding 178 additional truck parking spaces at four existing ONroute travel plazas. This is part of the province's five-year plan to keep Ontario's roads and highways among the safest in North America and maintain the safe movement of essential goods.
To support the province's trucking sector, Ontario has ensured that parking and washrooms remain available at all 23 ONroutes, and there are more portable washrooms at truck inspection stations.
"Truck drivers spend long hours moving goods of every type and description on our roadways and we need to ensure they have a modern, safe and welcoming place to stop and rest," said Caroline Mulroney, Minister of Transportation. "During the pandemic, our carriers and drivers have been going above and beyond to get essential goods to market and we truly appreciate their effort."
Announced at the same time, but as a separate move, the province is working with trucking industry partners to raise awareness about human trafficking, in step with Ontario's Anti-Human Tracking Strategy. Traffickers are known to use the 400-series highways to move victims across jurisdictions and professionals who work in the trucking industry play a vital role in helping to combat human trafficking.
This is part of the government's plan to connect communities, build safer and better highways, help combat human trafficking and keep the supply chain strong in every part of Ontario.
"In September, the Women's Trucking Federation of Canada launched the #KnowHumanTrafficking campaign to help raise awareness about human trafficking and educate people about the actions they can take to help those at-risk," said Shelley Uvanile-Hesch, Chief Executive Officer of the Women's Trucking Federation of Canada. "We look forward to working with the Ontario government on this initiative and creating safer highways and rest areas across our province."
Melanie Teed-Murch, Chief Executive Officer of ONroute. "As an essential service and key stop along the 400-series highways, we are pleased to work with the Government of Ontario to expand our services and amenities, including adding much-needed parking, to better serve the drivers who keep our economy moving."
Perhaps the government is waking up? In Australia, a major research program on truck driver fatigue led to revisions in drivers' Hours of Service (HOS) regulations. To accommodate the stopping needs of drivers mandated by the HOS regulations, national-level guidelines on rest area design were developed by the National Transport Commission in 2004.
The Pandemic has shown us that Trucking and truck drivers are essential to our national fabric and existence. Our economic rebuild will heavily depend on trucking. It is essential that we do all we can to ensure the safety and wellbeing of all in the industry. Especially truck drivers. That means numerous and adequate rest areas all across Canada. Our future depends on it.