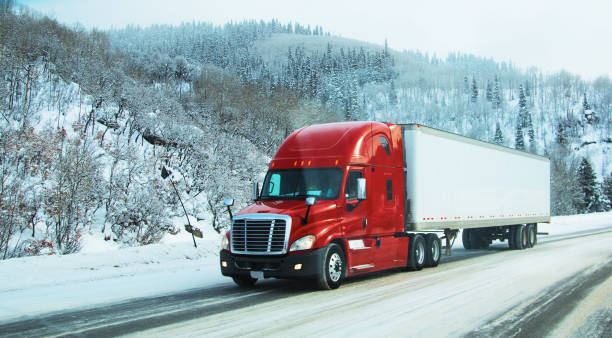 Truck driving for long has been associated with a "money making" occupation but little do the beginners realise the "on road" hardships that await them. 
However, do not get dissuaded by the challenges as there is a thrill and an adrenaline rush attached to "truck driving" that propels a large number of men and women towards this career.
The golden rule is three AAAs i.e. "Acceptance", "Alertness" and "Act in Accordance" to deal with the challenges that await the drivers on road. 
Here are some major concerns which when tackled timely and precisely can make driving on long routes easy.  
SAFE, TIMELY DELIVERIES 
Truck drivers are the most entrusted professionals in the supply-chain line as it is their responsibility to deliver the goods in "original shape". They have to exercise caution while driving irrespective of the obstacles that come in their way which include applying breaks cautiously, taking turns and even calculating their time. It's not just a challenge of delivering goods without damaging them but delivering them in stipulated time is what makes it difficult. 
PARKING IS DIFFICULT 
Finding a proper parking place for long trucks is one of the biggest causes of stress for the drivers as they cross through the busy roads in cities/ towns. 
Many a times, drivers fail to take rest even after long drives as they are unable to find a suitable parking place. Not only this adds to their fatigue but also makes the drivers more tense. The best way to combat this problem is to pre-book the parking slots after calculating the driver's/ truck's time on road after chalking out a complete plan of the halts. 
EXHAUSTION AND STRESS
Long hours on the highways when you are maneuvering a vehicle as heavy as 80,000 pounds undeniably exhausts you. This physical exertion also adds to the stress of driving with utmost care without causing accidents and any harm to the vehicle. So as to avoid exertion and stress, the companies must ensure that the drivers are on the road only for permitted number of hours and take proper rest breaks. 
ADVERSE WEATHER CONDITIONS 
From blizzards, high velocity winds to incessant rains on tricky mountain roads, truck drivers encounter the most adverse weather conditions on long routes. It takes a good judgement, quick yet level headed call to action to deal with an emergent weather condition. Every company must have brush-up sessions of the drivers to prepare them for the harsh weather conditions. They should be strong enough to brave the harsh weather in case of lost communication, damaged vehicle and an accident. 
ILL-MAINTAINED TRUCKS 
If the trucks are not well kept and maintained by the companies and the drivers, they tend to pose serious problems on road. Technical snags usually happen when the components/parts of the truck are not serviced at required intervals. Also, there are some damages which may not occur to be important but when ignored for a longer period, they can cause major mishaps. The drivers should apprise the safety compliance officers and operation supervisors in case of any defect with the truck's machinery. 
SUDDEN HEALTH EMERGENCIES  
Being on roads for long hours on your own is a challenge in itself which the truck drivers face throughout their career. There have been  instances wherein the drivers suffered from heart attack, stroke, epilepsy attack, and even syncope while driving. To deal with such emergencies, the trucks should be equipped with emergency medical kits and a good communication system to call for emergency services. 
BOX: LAKE EFFECT SNOW 
"Lake Effect Snow" is another factor that has to be kept in mind while driving during winters. The cold-dry air sweeps across the warmer surface of lakes and in the process sucks up more and more moisture that falls as snow.  It is dicey to drive through the lake effect snow, especially during the night as the visibility is very poor and it can be blinding. It is best to avoid driving through such snowstorm and wait till the weather clears. Your best bet is to get off the road before finding yourself in a blinding snowstorm.
BOX: WAYS AND MEANS TO MAKE TRUCK DRIVING EASY 
Provide devices in trucks to make communication with family/friends easy

Conduct regular mental health therapy sessions to keep them in positive frame of mind 

Keeping the trucks in good shape add to the on-road confidence of drivers 

Create cozy-comfortable corner in the truck, making it the closest thing to home

Regular check-ups of the trucks by in-house engineers/mechanics 
It is always good to abide by the laws and guidelines for heavy vehicles as not only do they ensure personal safety of the drivers but also safeguard the interests of other people and drivers on road. A little caution is always better as it is wisely said, "Caution is the parent of safety".