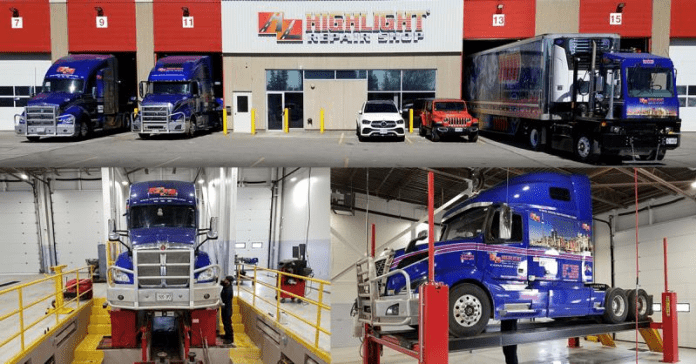 Highlight Motor Group is proud to announce the grand opening of their brand new, state-of-the-art repair shop. Connected to their head office in Concord, Ontario, this large 2 story facility sits on over 2 acres of land and boasts 22 bay doors.
Highlight Repair Shop offers a full suite of services including all repairs, maintenance, oil changes, safety inspections, truck and trailer alignments, tires, washing stations and much more. President & CEO Mr. Kirk Kalinitchenko is thrilled with this new launch and states, "This was in the works for almost two years and our whole team is so happy with how things came together. The coolest part about this is that the launch aligns with the Highlight Motor Group anniversary which celebrated its grand opening back on May 22 of 2007."
The alignment of anniversaries is a fun fact but the most impressive aspect of this launch is the fact that it's happened amidst the COVID-19 pandemic. Where a lot of companies in transportation have seen reductions in revenue and personnel, Highlight is continuing to build momentum and better position themselves for the future in the post-pandemic world.
Mr. Kalinitchenko explains, "A lot of people are losing their jobs due to the current state of our economy. We're putting forth a great effort to not only retain our employees but find ways to bring on more. With this new repair shop, we are hiring Truck and Trailer Mechanics, Parts Advisors, Fleet CSR Supervisors and more. All said and done, we are expecting this new facility to create more than 70 jobs."
Highlight Repair Shop will begin by operating 2 shifts, 7 days a week with the intention of switching to a full 24/7 operation later this year. As with the transportation and storage aspects of their business, all new employees will be fully trained to meet Highlight's high quality standards in service, health and safety.
About Highlight Motor Group – Highlight Motor Group is a domestic and cross border carrier with facilities in Ontario, New Jersey, Illinois and California. They provide dry van, reefer, expedited and hazmat service by the skid and by the truckload throughout Canada and the USA. Logistics and warehousing services are also provided to their North American customer base. Highlight Motor Group has been ranked in Canada's Growth 500 Fastest Growing Companies for 2016, 2017, 2018 and 2019. To discover more about Highlight Motor Group, visit www.highlightmotor.com