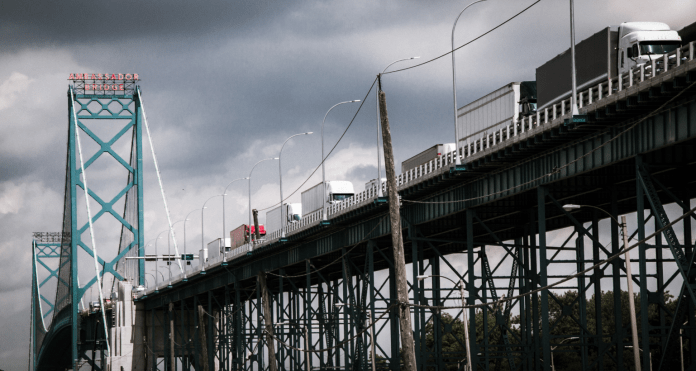 The biggest most obvious thing that happened in 2020 to all industries and people around the World is of course Covid-19. For the transportation industry this meant all essential goods that can be carried across borders is now the main focus! Those who weren't previously carrying essential goods scrambled to get contracts for essential goods to carry in order to remain in business. Drivers must face the constant worry of keeping their jobs and those who keep them worry about whether they will contract the Covid-19 virus while picking up and dropping off goods. Industries like fuel carrying took a huge hit because no one was driving to and from work or schools as everyone was under the government mandatory lockdown stay at home orders, thus the fuel transportation companies took a huge hit also! I've spoken to numerous company owners and I hear from them the food and water transport carriers are excelling and over full capacity! The nonessential goods carriers have been down to between 10-40% of normal business operations. Many companies have gone bankrupt in North America including transportation companies due to all of the Covid-19 Pandemic. There has also been a significant amount of transportation company mergers due to the harsh market conditions, this can be a great alternative to closing down, pooling resources can help to withstand the market! What an excellent idea for everyone involved! There has been a big shift in production locations as well, both in the trucks and goods manufacturing. When the bigger production companies move south of the border this creates a dive in the Canadian market. The Good news on this front is that the vaccine has come out, it's being given now to the healthcare workers first then to the vulnerable, sick, and elderly, then it will finally at some point be available to the public. All Goods moving will come back very soon so those who can hang in there please do so!
I get asked about this daily: According to the Canadian Federal Government this is mandatory for ALL. According to a CBSA Officer that I know, truck drivers have been getting away without using this if they are essential goods carriers, however, they are encouraging Everyone to use this so that there are no delays or turn backs at the borders coming into Canada. The truck drivers are not required to do the 14-day quarantine unless they have Covid-19 symptoms. This new App called ArriveCan that came out last year due to the Covid-19 Pandemic has all drivers be it passenger vehicles or trucks, the drivers must log into the App, link to it is here: https://www.canada.ca/en/public-health/services/diseases/coronavirus-disease-covid-19/arrivecan.html
Use ArriveCAN to provide mandatory travel information on and after your entry into Canada. It only takes minutes to help keep each other safe.
As of February 22, 2021, all travellers, with limited exceptions, whether entering Canada by air or land, must use ArriveCAN. Travellers will need to submit the following information electronically before they board their flight or before arrival at a land border crossing:
Travel and contact information, Covid-19 symptom self-assessments, Once you submit your information through ArriveCAN: a receipt will be displayed and emailed to you, show the receipt to a Canadian border services officer when you enter, you can show your ArriveCAN receipt from:, the app as a screenshot, your email, a printout, Your privacy is protected, ArriveCAN: does not use GPS or other technology on your mobile phone to track your location, uses only the information provided by you, the user. The personal information provided through ArriveCAN is protected according to the Privacy Act.
Another thing that has hit the trucking industry in particular is the Increased Secondary Inspections. This is directly due to the Covid-19 Pandemic causing extremely significant decrease in border traffic both trucks (nonessential goods) and of course no passenger vehicles allowed to cross unless they are essential services workers such as healthcare. Drug smuggling and money laundering is on the rise unfortunately! As many of us are located in the GTA in Ontario, Canada, we are number 1 in all of North America for this and the governments of Canada and the USA as well as Border Services on both sides of the borders and the Insurance industry, have all taken great notice of this as you can imagine. What to expect: have ALL of your documentation prepared 100% accurately, all BOL's, ACE & ACI eManifests, commercial invoices, POD's, etc. must match 100%, noting everything about the shipment of the goods from what you are carrying – exact full description to the weights, piece counts and overall quantities – which also includes the correct skid amounts. If there is even 1 digit off you will be pulled over for secondary screening and from what I am hearing in this industry from the drivers and the owners of the companies, these inspections are a complete off load and are taking as much 8-9 hours! To make matters even worse, the drivers, if not found guilty of anything will be release however the trucks are being seized for further inspection. Make sure you know what you are carrying, for whom you are carrying and if you notice anything suspicious at all contact your dispatch or management at the company who you work for, if you feel in danger please call the police right way!
2021 Market flipping around projection for the transportation industry. 2020 was not a great market situation for this industry however many experts are extremely optimistic that this year things will turn around. There are many new developments for this industry coming out this year which is expected to help increase the market demands for trucking. As more people have gotten used to the stay-at-home order, they have been ordering everything online; eCommerce can be both good and bad for trucking as companies like amazon use mostly couriers and post however many other companies take larger orders and require trucks to move their products to and from hence this can be a great move for the trucking industry in 2021!
Things are starting to look up for the transportation industry in 2021! Did you know that statistically speaking over 70% of goods transported are carried by trucks! What other industry do you know that has the most job diversity! Grocery stores are extremely dependent on the trucking industry and that is the single most essential products being moved right now, toilet paper anyone! 😊
Stay Safe and Healthy Out There!  For more information about this article, the new MSC, suspicious activities reporting, border crossings or safety & compliance programs such as CTPAT, FAST, PIP, AEO, CSA please contact Cross Border Services at www.crossborderservices.ca    dawntruell@gmail.com.