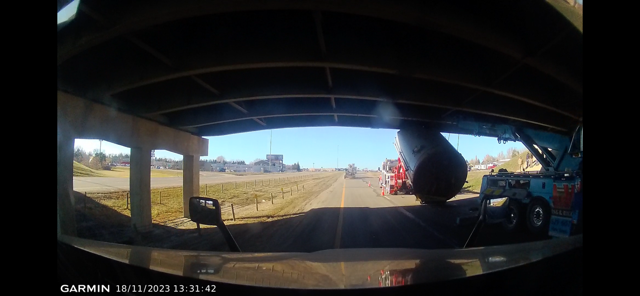 Attached is a screenshot from my dash camera of a load that struck a bridge in North Dakota yesterday. The driver's permit contained an error, and he didn't catch it until his 15 ft high load didn't make it under a 14 ft 10 in bridge.
We've covered this topic before, but OD (overdimension) loads seem to be a hot topic again. OD loads come in all different shapes and sizes and are not limited to open deck trailers, although most do travel on open deck trailers. OD is anything that exceeds industry standards regarding height, length, width, and weight. All such loads generally require a permit for every state and province they travel through, and the permit requirements and restrictions vary from one jurisdiction to the next. So before starting your trip, make sure you have the permits in hand and that you have read and understand every single requirement. Some places won't even load you until you have all the needed permits. Carry a yellow highlighter to highlight the pertinent sections for easier reference. If you're over width, then the requirements for over height and over length don't really apply to you. Make sure the information regarding the load on the permits is accurate. For example, if your load is 15 ft high and the permit lists it as 14 ft 11 in, then the permit isn't really worth the paper it's written on. If the permit says you require one or more pilot vehicles, be sure to give a copy of the permit to the driver of each pilot vehicle. It is better to have 2, 3, or more people go over the permits.
The permit will describe your truck in detail (unit #, plate #, make, model, year, DOT #, VIN, & registered max weight, width, height, and length) and list the details of the load. It will also have your detailed routing information, listed turn by turn, as well as the allowable maximum weight, length, height, and width. It will also list all the requirements (lights, flags, and signs) and operating times along your route. For this reason, you MUST read and understand all the requirements of all your permits, as they can vary from one jurisdiction to the next. For example, travel is permitted in SK from 1/2 before sunrise to 1/2 after sunset seven days a week for loads up to 4.1 meters wide. For loads over 4.1 meters wide, travel is prohibited after noon on Sunday. AB prohibits loads over 4.1 meters wide all day Sunday and after specific times on certain holidays and holiday weekends. Some jurisdictions require pilot cars or police escorts for certain OD loads, while others don't. These are a few of the reasons why you need to read and understand the permit requirements.
Even if you do read and understand the permits and follow the approved routes, you can still find yourself in a bad situation. One driver, following his permit, encountered trees overhanging his path and took it upon himself to prune the trees back to allow him to pass. The fine for that was over $10,000, and his argument that he was on the route on his permit held no water in court. Just yesterday, a driver hit a bridge in Minot, ND, due to an erroneous routing on his permit. Regardless of what the permit says, the driver is still responsible to ensure safe travel over, under, and through towns and construction zones.