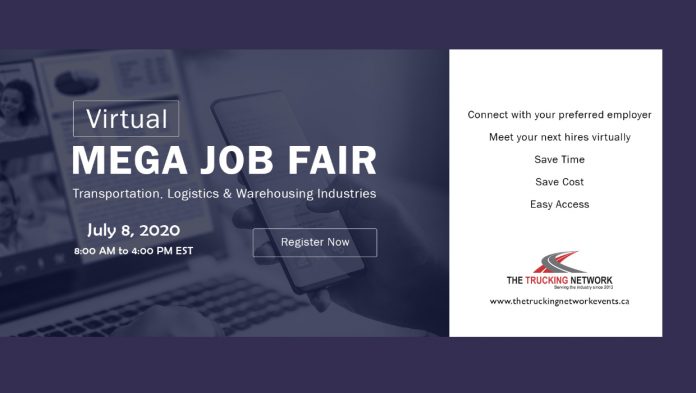 TTN is a well-known brand in organizing Job Fair Events in Canada targeting trucking and related industries.
Due to ongoing Pandemic COVID-19 we at TTN have decided to support the economy to start organizing virtual Job Fairs events.
Our very 1st Virtual Mega Job Fair Event is confirmed for July 8th 2020.
Standard Booth: $499.00+HST
7 benefits of virtual career fairs
Easy access. Perhaps the biggest benefit of virtual career fairs (especially when compared to in-person career fairs) is that virtual events eliminate the obstacle of geography. …
Cost savings. …
Time Savings. …
More connections. …
Easily track ROI. …
Improved recruitment marketing. …
Meet your next hires virtually.
Virtual career fairs play a key role in helping companies ace staffing without compromising on talent quality, cost or hiring targets. With traditional fairs known to be a hub for recurring challenges, some standard dilemmas faced by employers are:
Bringing together job seekers and attractive employers under one physical roof.
Expensive venue rental, logistics, administrative planning and event management.
Low attendance volume due to the inability of guests and exhibitors to participate from across the state or country without hefty travel price tags.
Inefficient talent acquisition due to manual resume sorting/shortlisting performed by hiring managers.
Difficulty in marketing and attracting qualified prospects to the career fair.
Boring visitor experiences due to limited mediums for sharing informational content.
No measurable results and real-time insights to determine event ROI and overall effectiveness.
Attending a virtual recruiting event is another fantastic option for job seekers. A job fair is essentially an event in which employers, recruiters, and hiring managers meet with job seekers to talk about their industries, provide info about their respective companies, and interview candidates for open positions.
With  social distancing measures in effect right now, it's rather difficult and not recommended by Health Canada  to gather employers and job seekers in one place. But thanks to technology, you no longer have to pile into a packed place just to get a few minutes with a potential employer.
That's right: virtual job fairs are increasingly a great option for many job seekers and trucking is no exception. Our unique setup and platform would provide the same experience as in-person.
Here's some quick info on what the Virtual Job Fair entails:
Who: Trucking Companies, Fleets, Service Providers, Job Seekers (experienced and non-experienced)
What: A Remote Work Virtual Fair
When: July 8th , 2020; 8 a.m. to 4 p.m. ET
Where: Your home or office or even truck stop
Why: To connect you with top fleets looking to fill open positions.
Register now……https://pheedloop.com/ttnjobfair/site/home/