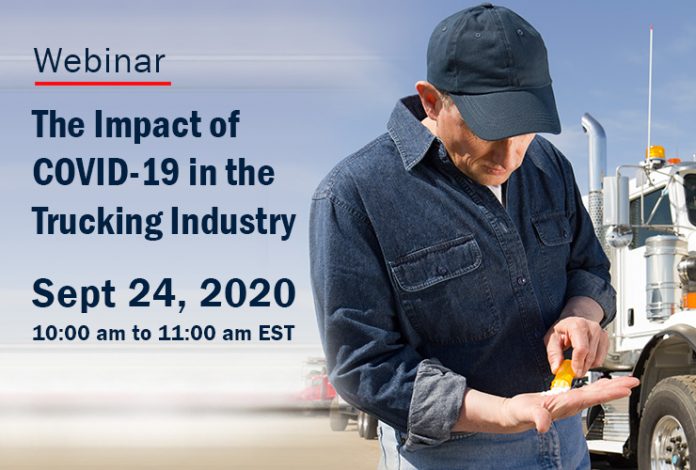 Join us in a Zoom webinar.
When: Sep 24, 2020 10:00 AM Eastern Time (US and Canada)
Topic: The Impact of COVID-19 in the Trucking Industry
1.Faction and fiction from the frontlines
2.Impact of CVOID-19 on addictions
3.Recognizing the signs and symptoms of substance use
4.Differences between an EAP and SAP program
5.What can organizations do to support their employees?
"It is not uncommon for individuals to use substances as "self-medication". When feeling stressed, isolated, bored, depressed, or anxious, some individuals lack the necessary coping strategies to manage their thoughts and feelings," says Dr. Melissa Snider-Adler, Chief Medical Review Officer of DriverCheck and Addiction Medicine Physician. "They may then turn to alcohol, cannabis, or other substances to try and "treat" their symptoms. However, these same substances may create more symptoms of depression, anxiety, and stress.
When: Sep 24, 2020 10:00 AM in Eastern Time (US and Canada)
https://www.thetruckingnetworkevents.ca/
https://us02web.zoom.us/webinar/register/WN_vuP4lbCqQfaswfSjo_C-Hg
If there are any questions for this event feel free to contact us: Nav@thetruckingnetwork.ca or call in 647-818-2121