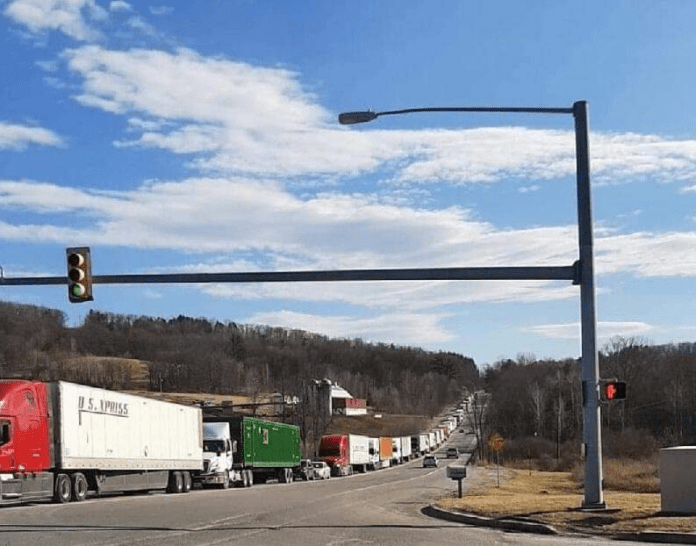 Canadian economy would be "negatively impacted" by a policy requiring all international truckers to self-isolate, regardless of their reason for travelling abroad. Organizations has been working with the Canadian Centre for Occupational Health and Safety to draft resources and recommendations for Canadian truckers with respect to how to tackle the COVID-19 issue. At this time The Trucking Network is not aware of any truckers who have presented with COVID-19 symptoms. Should that be the case, drivers must be told to follow coronavirus guidelines from the federal government.
"One of the clear steps that's been taken is once an employee is identified as positive with the virus, they go into quarantine, and obviously,".
In addition to clarifying travel restrictions for international trucking and commerce, government of Canada recommends organizations to ensure participate where such conversations are taking place. Fleets should invite the experts opinion and do their best to comply, if possible. Both the Canadian and U.S. auto sectors, as well the manufacturing industries in both countries, would be negatively affected if travel restrictions are imposed on the trucking industry.
"Much of the manufacturing in Canada is tied into 'just-in-time' delivery," if there's a stop of flow of parts between the borders, it'll have a huge negative impact on both of our nations. Having said that the priority "has to be about keeping people safe."
Despite growing concerns over the spread of COVID-19,  there's been an increased demand for international trucking services. What we are seeing, especially in the food transportation business, is significant demand on trucking services to move products that appear to be in high demand from the Canadian public who are concerned about the virus and, one would assume, are engaging in the practice of stocking up on key supplies that they believe might not be available.
At the time of this article land transport is maintained, but subject to disruptions and slowdowns due to increased border control, sanitary measures (temperature measurements by drivers, etc.) and special arrangements (closure of certain border posts and detours). Major national crises tend to expose underlying truths about society that otherwise go unnoticed during life's regular routines. They reveal the individuals among us who are truly essential to upholding the high standard of living we've collectively come to expect. They remind us of North America's unsung heroes.
The unfolding COVID-19 pandemic is no different. The spread of Coronavirus in the U.S. and Canada will test government institutions, challenge private industry and place inordinate demands on our most critical workforce. It will marshal the full strength of our nation and elevate its essential core.
And just as they do when a hurricane strikes or a blizzard hits, Canadian professional truck drivers will be on the front lines delivering critical supplies and aid to fellow citizens.
The Canadian trucker sits at a vital intersection in society. They are the critical link between the valued goods we produce and the demands of our most pressing needs. For the healthcare professional tending to the sick, for the mother providing for her family, for the scientist working overnight to develop a vaccine—truckers are sacrificing daily to ensure everyone has the essentials in hand to remain healthy, nourished and productive.
Following the guidance of government and health officials, many working Canadians will be staying home in the coming weeks. But truckers are not afforded that same luxury or comfort. In order to keep store shelves stocked, hospitals supplied, first responders equipped and government agencies running, duty calls the Canadian trucker to the road.
And as our nation bands together to tackle this challenging road ahead, we must recognize the vital role of truckers in maintaining society's most essential functions. We urge shippers and receivers to treat them with the courtesy, dignity and respect they deserve. We call on government officials to provide them with the flexibility and resources they need to get the job done.
But there's one thing all Canadian can do right now: Thank a trucker. Especially during trying times like these. Because without them, the disruptions we are experiencing would be something much, much worse.!!!
As of now Federal government is giving exemption to self-isolation for 14 days to healthy workers who provide essential services. This includes workers in the trade and transportation sector who are important for the movement of goods and people across the border, such as truck drivers and crew on any aircraft, train or marine vessel crossing the border. It also includes healthy people who have to cross the border to go to work, including health care providers and critical infrastructure workers.
What it has to do with Driver Shortage – Well The trucking industry, a key link in Canada's supply chain, is facing a driver shortage that could exacerbate disruptions to supply chains caused by recent rail blockades and the COVID-19 outbreak. Approximately 300,000 truck drivers in Canada move an estimated $850-billion worth of goods annually, including $550 billion in imports and $300 billion in exports, according to research released Wednesday by Trucking HR Canada and the Conference Board of Canada. For comparison, Canada's largest railway Canadian National Railway transports about $250-billion worth of goods annually. But the job vacancy rate in the trucking and logistics sector is higher than in any Canadian industry aside from crop production as older drivers retire and the industry struggles to attract young people and women to replace them.