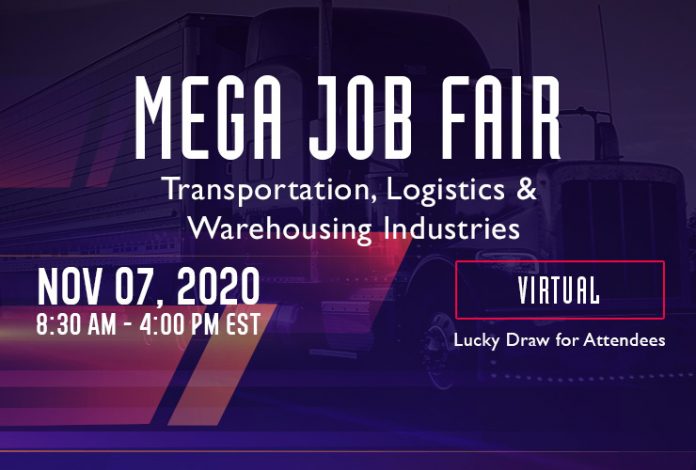 The Trucking Network (TTN) is a well-known brand in publishing trucking magazine and organizing Job Fair Events in Canada serving trucking and related industries.
@TTN we are proud to announce and confirm "fully virtual" Mega Job Fair Event on Nov 7th 2020 from 8:30AM – 4:00 PM EST.
Given the fact COVID-19 is still around us and for everyone saftey and well being, TTN has decided to change the plan from on-site event to a full blown "virtually hiring and networking" event for year 2020.
In difficult times such as COVID-19 "the health and safety of our exhibitors, attendees, job seekers, staff, industry colleagues and guests who attend our events year after year, is always be top priority."
TTN "virtual event" will provide the best value for your time and money along with similar experience during our on-site events. For our virtual events, TTN has partnered with an online event management company PheedLoop and has already delivered few successful events in year 2020.
Highlights –
Top fleets and companies will participate.
ON THE SPOT HIRING
CASH Lucky Draw $500
1 on 1 Meeting/chat/audio/video
Job application submitted to fleets for 30 additional days
Online Resume share
Please click the link below to register now –
www.thetruckingnetworkevents.ca
If there are any questions for this event feel free to contact us: Nav@thetruckingnetwork.ca or call in 647-818-2121
This event is an opportunity for you to build network and showcase what services or product you have to offer.
$599+HST is cost for 1 booth that would have 4 attendees.
If you have anything to do with trucking, transportation, logistics or anything else. Join us online Nov 7th 2020 between 8:30 am -4:00 PM EST
Virtual job fairs are increasingly a great option for many job seekers and trucking is no exception.
Here's some quick info on what the Virtual Job Fair entails:
Who: Trucking Companies, Truck trailer sales & service providers, repair, product and service Providers, Job Seekers (experienced and non-experienced)

What: A Remote Virtual Job Fair for transportation industry including Truck drivers new and experienced, owner operators, mechanics, dispatchers, load planners, accounts, customer service, operational staff and more

Where: Your home or office or even truck stop
Why: To connect you with top fleets and dealerships looking to fill open positions
Show Case your products and services
Note: This virtual job fair is only for candidates who currently resides in Canada, USA and Mexico.