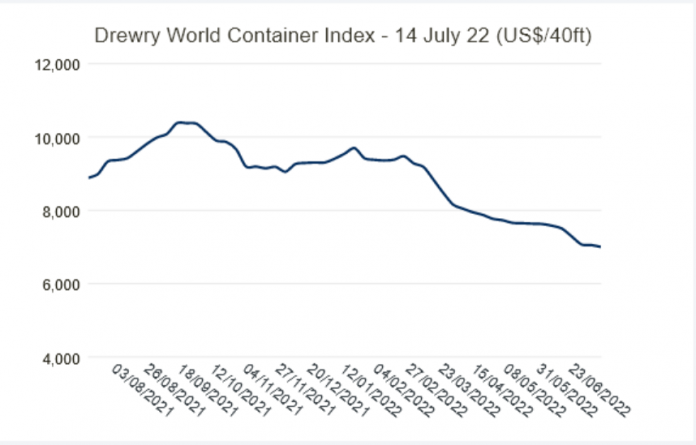 Economically speaking, Boom and Bust go hand and hand… it's just the timing of each that may be tough to figure out. The world trucking industry is currently experiencing somewhat of a surprise Bust ,,,but just what does that mean? 
Note: The World's transportation/logistics industry have been abnormally over stimulated for 24 consecutive months – that's a Boom. Is it finished? 
Since 2019 the cost of shipping has increased significantly. However, this past spring container shipping costs fell by about 12%, according to the Drewry World Container Index. Creating a supply shortage. Is this the beginning of a Bust? 
The reasons for the spring start of the decline are many.  The largest being the spike in COVID cases in China resulting in citywide/countrywide lockdowns.  Ports and manufacturing hubs closed with most slowly coming back to life.  However, the recent summer spike of COVID ba2 threatens to close the doors once again prolonging the Bust.
Simon Heaney, senior manager of container research at Drewry said there hasn't been a whole lot to ship out of China recently. Even if consumers are demanding goods: "If you're not able to move goods, it's meaningless," he said. "So the ships will be idle, there's not enough goods for them to move, and therefore freight rates come down."
The slowdown in China eased up traffic at some U.S. ports meaning ships at the ports of Los Angeles and Long Beach have had more time to unload, said Lisa Ellram, a professor of supply chain management at Miami University in Ohio. "It's not just that they're no longer waiting, and that things are slower, but it's also that that capacity is actually available now, for sale on the market," she said.
There is also a counterintuitive reason why shipping costs could be declining. The rising cost of fuel and new trucks. There are only a few breakeven business models to buy time these days. Renew…reuse. 
Boom times: The American trucking industry moves a huge part of the nation's freight each year. Trucks moved over 10 billion tons of freight in 2020 accounting for 72.5% of domestic tonnage that year, according to the American Trucking Associations. Some drivers during the pandemic saw lucrative pay rises from companies trying to combat supply chain difficulties — Walmart in April raised its starting salaries for long-haul drivers to up to $110,000, among the highest rates in the nation.
Bust times: Lewie Pugh a former truck driver of over 20 years and executive vice president of the Owner-Operator Independent Driver Association in the USA. said "With inflation starting to rise and the economy slowing some, the worm is turning now with the price of fuel and stuff." In addition, Pugh says that drivers being paid through the spot market, which uses market prices to determine compensation instead of pre-determined contracts, are seeing lower pay. He added that the declining price of shipping is a sign that — after the surge in demand for consumer goods early in the pandemic — the economy is starting to level out.
Echo times: Scientists warn that because of truck driver cluster conditions, it is possible the virus will create a Covid-19-based truck driver syndemic (disease cluster). Safety concerns in the industry are huge, as companies scramble to create safer and cleaner work environments without sacrificing efficiency and truckers debate vaccinations.
The road ahead: Forbes Magazine is reporting …Freight issues heading into 2022 and the future can be solved with tech solutions. There are a few specific steps that truck companies should take to begin the journey toward implementing emerging freight technology. First, companies might want to consider serious investments in new technologies for their fleets to make them more efficient. Powertrains are an example of freight technology that can reduce fuel consumption. Due to their smaller and lighter engines, powertrains are faster and more efficient than other freight options. Companies must also prioritize driver safety and comfort with these new technologies.
Investors and financial analysts worry what will happen if the trucking slump deepens and spreads. History has shown trucking to be a possible indicator for the future U.S. economy. When people buy less, companies ship less – and business activity slows. Economic recessions followed six of the 12 trucking recessions since 1972, according to an analysis by trucking data company Convoy.
Experts predicted trucking would soften a bit as pandemic-weary consumers shifted some spending from goods to services in response to the United States lifting COVID prevention measures. But they did not foresee Russia's invasion of Ukraine, which sent fuel prices to record highs, jolted already volatile stock markets, and forced shoppers to hit pause.
Foreseeing, foretelling, predicting are words illustrating possible outcomes, good and bad. Boom and Bust are terms of change usually following each other.  With that in mind we look forward to another Boom.