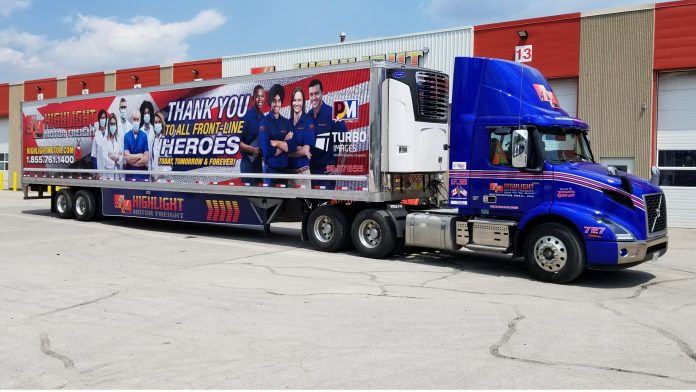 Highlight Motor Group is excited to share the design of their new trailers which showcases their strong appreciation for all dedicated people working on the front lines during the COVID-19 pandemic. These wraps are featured on five brand new reefer trailers which will be set to travel on their cross border runs between Canada and the USA.
President & CEO Mr. Kirk Kalinitchenko is thrilled with the new design and explains, "To put it simply, we just wanted to show how thankful we are to everyone who is working to keep us all safe and healthy. What better way to achieve this than by creating 53' rolling billboards which will be travelling across North America for years to come." Kirk adds, "It's not just about the present. These trailers will be rolling for upwards of ten years and as we say on the design, we want to salute these heroes today, tomorrow and forever!"
Highlight Motor Group has been quite active during the pandemic and has partnered with various companies to deliver supplies free of charge and generate awareness to the dedication of front-line workers. Earlier in April, Highlight teamed up with Flow Water to deliver truckloads of water to several hospitals across the GTA and New York. With these limited edition trailer wraps, Highlight teamed up with Palmer Marketing for all design work and Turbo Images for the output and install of the wraps on all their trailers. Mr. Kalinitchenko exclaims, "Our partners share the same appreciation for these heroes and have been so great to work with. We couldn't be happier with how things turned out."
As a further tribute to those on the front lines, Highlight has recently purchased 13 new Volvo city trucks and will be working with both Palmer and Turbo again to get them fully wrapped and out on the road reminding everyone to show their appreciation to all the heroes helping us get through COVID-19 safe and healthy.