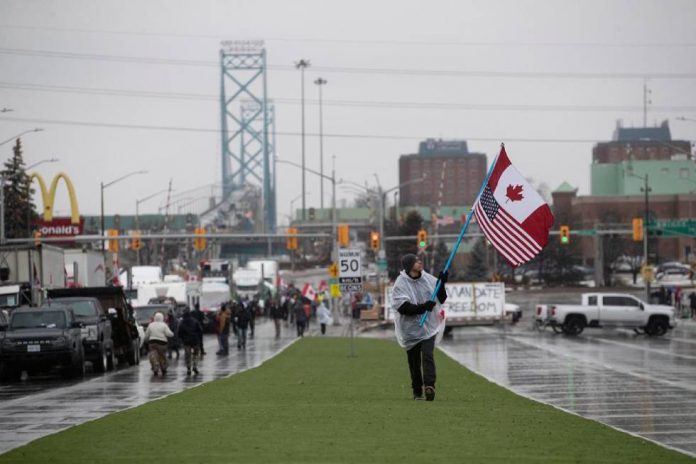 While operations at key border crossings shut down by demonstrators start to return to normal today, the focus is shifting to how downtown Ottawa will recover from the occupation by Freedom 2022 Convoy supporters.
As Wednesday morning dawns in Ottawa, the down streets are still jammed around Parliament Hill by a determined core of Freedom 2022 Convoy vehicles. Today marks day 20 of the so-called "Ottawa Occupation." The citizenry and the demonstrators anticipate greater enforcement in the downtown area to begin today. The costs of the event have been massive on many levels. 
On Tuesday, Ottawa was shocked to learn of the sudden resignation of Police Chief Peter Sloly. In what was seen as three weeks of inaction by Ottawa Police Services against the truck "invasion" of downtown Ottawa, Chief Sloly had come under criticism and unrest by Ottawa citizens. By invoking the Emergency Measure Act, the Federal government has signalled that it was time to move the Convoy supporters out of downtown. 
Echoing Greek Philosopher Hippocrates, "drastic times call for drastic measures."
Many are criticizing the Federal government's decision, but others see it as about time there was leadership and a show of force.
Damned if you do and damned if you don't. 
For downtown residents and workers, their lives have been disrupted with chaos for three weeks, this action could not come soon enough. 
Those invalided, ailing, and dependent on outside support mechanisms have been left stranded. The city's largest mall has been closed since the Convoy's arrival. Tourism, restaurants, and downtown business have ground to a halt. An unsettling sense of lawless recklessness prevails. Noise, flagrant violation of bylaws and polluting fumes from idling trucks have become the norm. 
The Convoy is being chastised as cowards for using young children as human shields. 
The economic costs are immeasurable. Thousands are out of work. Policing costs are an extra $1 million daily. 
Canada's reputation on the global stage has suffered immensely. Democracy and freedom are under scrutiny as the events unfold over the next few days for all to see.